EDIT MAIN
Transportation
Click on the link below for important information. As always for questions or concerns,
call 517-849-9655.
Bus Signals
Safety is our number one concern with busing. When you see a bus on the road, you may not know what to do. Please look at the following picture that shows drivers what to do when approaching a bus on the road.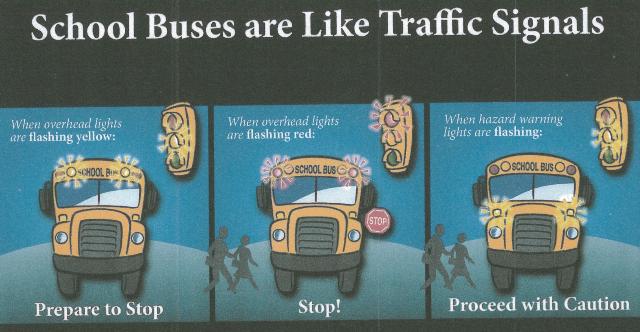 When overhead lights are flashing yellow: Prepare to Stop
When overhead lights are flashing red: Stop
When hazard warning lights are flashing: Proceed with Caution
Safety first,
Linda Smith
School Closings and Delays
Jonesville Community Schools will announce school closings and delays using the automated Skylert System, as part of our Skyward system. Phone calls will be made regarding announcements, weather closings and delays, etc. Please contact the appropriate school office if you are not receiving these announcements or need to change the contact number.
If you did not receive a call, or would like to check the status of school closings or delays, please dial: 849-9655
Weather related delays or cancellations will also be announced on the following radio and television stations:
WCSR Hillsdale - AM 1340, FM 92.1
WMSE Hillsdale - FM 102.5
Channel 10 News - NBC 10
Attention School of Choice Students and Parents:
Due to obvious liability concerns, Jonesville Community Schools cannot send buses into any school district with a weather related delay or cancellation.
If a student's home district has a two hour delay and Jonesville is on a normal schedule, there will be no morning bus pickup, but students will be transported home in the afternoon.
If a student's home district cancels due to road conditions, Jonesville will not send buses into that district.
If you have any questions or concerns regarding transportation, please contact:
Mrs. Linda Smith
Transportation
517-849-9655
lsmith@jonesvilleschools.org